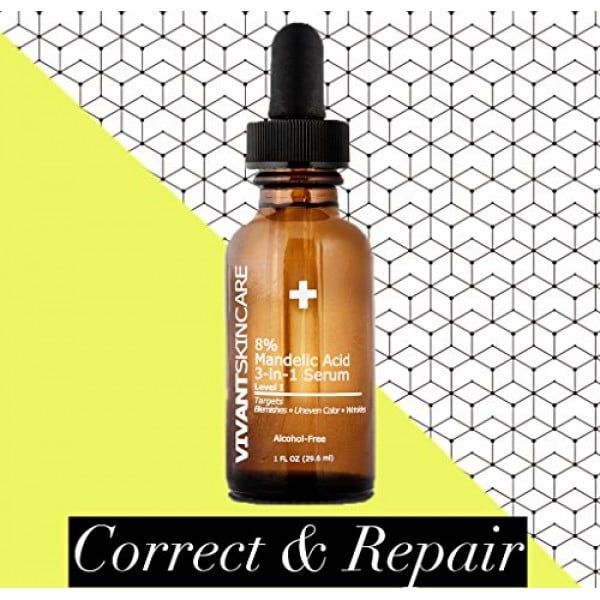 Vivant Skin Care 8 Percent Mandelic Acid 3-in-1 Serum
Vivant Skin Care 8% Mandelic Acid 3-in-1 serum gently exfoliates the skin to reduce acne, signs of aging and hyperpigmentation. Formulated with mandelic and lactic acids, it slowly resurfaces and illuminates the skin to promote a smooth and rejuvenated texture. This serum is ideal if you are just beginning an exfoliation regimen.
Featured Product: T.L.C. FRAMBOOS™ GLYCOLIC NIGHT SERUM
A dramatically different AHA experience synergistically formulated to target the top three trouble spots—acne, aging, irregular pigmentation—in one simple, unsurpassed serum that's safe for all skin tones.
Vivant's Mandelic Serum is one part of the Vivant Skin Fitness System. It is particularly beneficial for aging, oily, and acne-prone skin. Great alternative to hydroquinone. The best results can be achieved for the treatment of acne, anti-aging and skin brightening when used in combination with Vivant Skin Care Mandelic Wash and Mandelic Toner. As a booster, apply Vivant's Spin Trap, Vitamin C serum after the Mandelic Serum has dried. MADE in THE U.S.A. Vivant Skin Care Labs use U.S. Pharmaceutical Grade raw materials, the highest grade for skin care products. All Vivant Skin Care products are formulated to work synergistically to make your skin look its best.
Treatments and Serums: Face Serum
Ideal for these Concerns: Hyperpigmentation, Acne, Aging Skin
Ideal for these Skin Types: Oily Skin, Combination Skin, Normal Skin
Preferences: Sulfate-Free, Paraben-Free, Clean
Key Ingredient(s): Lactic Acid, Alpha Hydroxy Acids, Mandelic Acid, Niacinamide
Application Area: Face
Key Ingredients:
- Mandelic Acid: A naturally derived extract of bitter almonds. Particularly effective in targeting acne, age spots, discoloration, and wrinkles while minimizing irritation. A natural skin lightener.
- Lactic Acid: Alpha Hydroxy Acid (AHA) derived from fermented milk. Gentler than other AHAs. Exfoliates dead skin, encourages cell renewal, aids in regulating pH and acts as a moisture binder.
Key Benefits:
Formulated to target the top three trouble spots: acne, aging and irregular pigmentation
Safe for all skin tones
Tips: Apply Spin Trap after the Mandelic serum has dried, Vitamin C and E in Spin Trap provides extra brightening.
Ingredients:
Water, Propylene Glycol, Mandelic Acid, Niacinamide, Xanthan Gum, Polysorbate 20, Saccharomyces/Zinc Ferment, Sodium Lactate, Sodium PCA, Glycine, Fructose, Urea, Inositol, Sodium Benzoate, Lactic Acid, Fragrance.